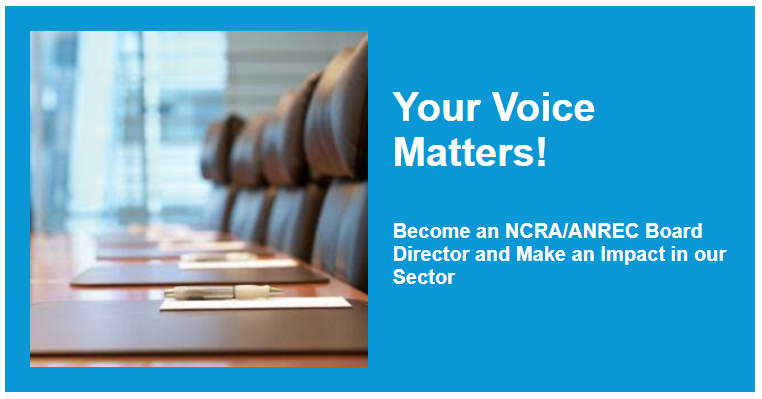 As a valued member of our radio community, we believe that you possess the skills, expertise, and passion necessary to thrive in a leadership role with the NCRA/ANREC.
We invite you to join our Board of Directors who will be elected at this year's AGM. Elected candidates will serve on the Board until our expected AGM in June of 2025 (2-year term).
As always, please encourage qualified members at your stations to run by circulating this information.
Elected candidates will be joining a board composed of continuing Directors:
Adriel Smiley (CJRU-AM) Toronto, ON
Matt Mabee (CNIB-FM) Saint John NBRhea Rollmann (CHMA-FM) St John's, NL
We want to thank our outgoing Board Directors:
Randy Reid (CHRY-FM) York, ONMalik Nembhard (CJAM-FM) Windsor, ON
To begin your nomination process, please complete the form in the button below by June 10th at 5pm Pacific / 6pm Mountain / 7pm Central / 8pm Eastern / 9pm Atlantic
Benefits of being on the board:
– Drive Progress for the NCRA/ANREC and the C/C Radio Sector!
– Develop Valuable Board and Governance skills!
– Expand Your Insights into the Broadcasting Sector!
– Attend the NCRC in 2024 (Cape Breton, Nova Scotia) and 2025 (Location TBA)Provided at No Cost to You!
– Attend the 2024 and 2025 Station Manager Summit (Location TBA) Provided at No Cost to You!
We are looking for individuals with knowledge and expertise around:
Finances
Fundraising (including advertising)
Human Resources
Change Management
The Committee encourages member stations to nominate Indigenous and BIPOC folks, and LGBTQ+ and Gender non-conforming folks from your stations to run for the board. NCRA/ANREC members serve an audience recognized as diverse in ethnicity, culture, gender, sexual orientation, age, and physical and mental ability, and the NCRA/ANREC board of directors shall continue to aim in reflecting this diversity.
We also remind members about three very important aspects of our bylaws:A director must be selected as an Indigenous Representative from the First Nations, Métis and Inuit peoples of Canada.This means that the NCRA remains devoted to the representation of Indigenous voices and encourages Indigenous identifying individuals to join the Board.
At least four of the six regions of Canada should be represented on the board. The six regions are: the Pacific (British Columbia);the North (Northwest and Yukon Territories, and Nunavut); the Prairies (Alberta, Manitoba, and Saskatchewan); Ontario; Quebec; and the Atlantic (New Brunswick, Newfoundland, Nova Scotia, and Prince Edward Island). There are returning board members from the Atlantic and Ontario, therefore we need to elect two individuals from either the Pacific (British Columbia); the North (Northwest and Yukon Territories, and Nunavut); the Prairies (Alberta, Manitoba, and Saskatchewan) or Quebec.
Members shall elect no more than fifty percent men to the board.This means that we remain committed to ensuring room for at least 4 people who do not identify as male!
—
We have very detailed documentation about what a board member does, how much time and the expectations. It is all outlined here.

If you're thinking about running and would like to talk more about it, feel welcome to get in touch with nominations-com@ncra.ca for more information.
We can't wait to have you on board.—Malik NembhardNCRA/ANREC Nominations Committee Chair