last updated, June 23, 2023
NCRA/ANREC National Listener Data update – Fall 2022
New license data shows a dramatic increase in listeners from 2017 to 2022 in the community radio sector. Now more than 50% of all Canadians listen to C/C radio annually.
Find the full report below
---
Below is information from our 2017 Updates
The NCRA/ANREC has some great news! With lots of requests for listenership data, we have hired Abacus Data, a market research company out of Ottawa, to conduct a national survey of 2,000 Adult Canadians on audience percentage and awareness for campus and community radio in Canada.
Please see the attached infographic on some of the research Abacus was able to find. You can also read the full Abacus Data report HERE
Our next step at the office is to coordinate more data that will require stations to participate in helping us get more accurate numbers. For stations that are interested in obtaining information on their region/city, in particular, the NCRA/ANREC wants to know if you are interested in assisting with research. Additionally, Abacus Data has expressed an interest in working with C/C stations (But we would like to coordinate with you). For more information please visit their website.
Please contact barry@ncra.ca for more information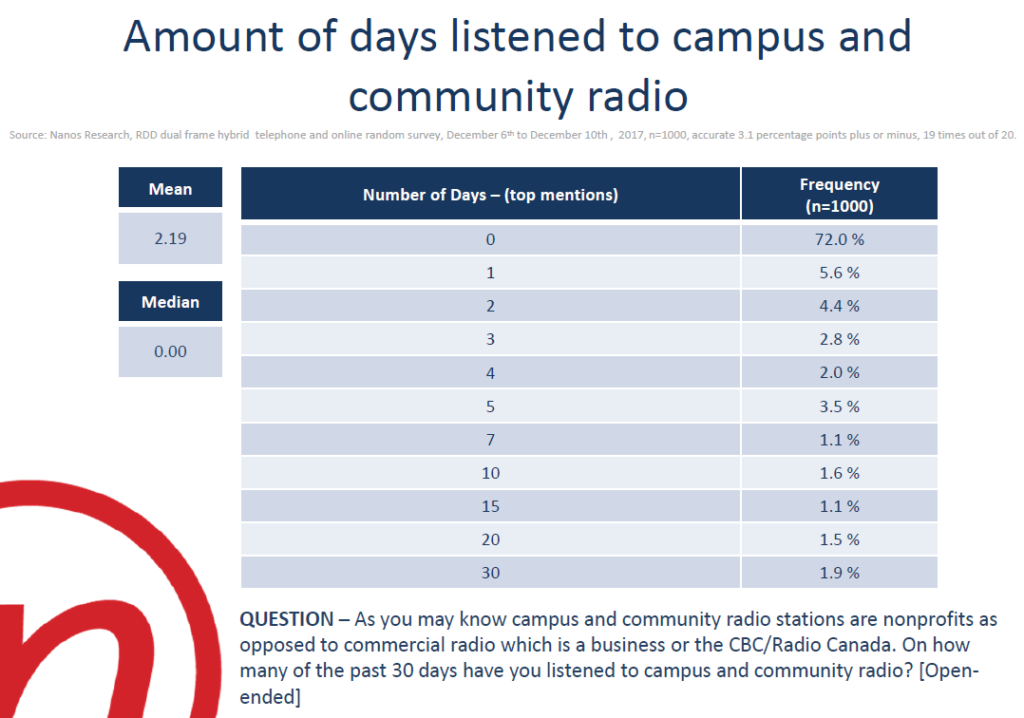 Nanos Research Poll – Results from December 2017
---
Snapshot of the Sector
The NCRA/ANREC currently (November 2021) has 117 member stations. Most of our members are located in English-speaking communities, and broadcast mainly in English, but serve a diverse range of cultural, social and linguistic communities. We have several Native B and French-language or bilingually-licensed members, although most French-language c/c stations are members of either of the French community radio associations: l'Alliance des radios communautaires du Canada ("ARCC") and l'Association des radiodiffuseurs communautaires du Québec ("ARCQ").
Of our 117 members, approximately 1/3rd have a Campus license, with 2/3rds holding a community license. Some members currently are developing to apply for licenses or are broadcasting online only and do not seek a CRTC License. Stations in our sector vary widely: some are in tiny rural communities with no staff, a small group of volunteers, and budgets of less than $5,000, like CJUC-FM in Whitehorse, YK, or CHBB-FM in Norris Point, NL; some are medium-sized with a few staff and budgets in the range of $150,000 to $350,000 like CKDU-FM in Halifax, NS; and a few are in large urban areas with up to seven staff, 200 volunteers, and an annual budget of more than $800,000.
More info here – NCRA Info Sheet – All About the NCRA – 2018.pdf
---
Six Typical Stations
We used data from 60 annual returns from our members to develop 6 typical stations. These fictional stations give an idea of the different types of stations making up the NCRA/ANREC membership