The Red Jam Slam Society was founded on June 10th, 2010, and exists to host events, celebrations, and annual festivals that feature emerging and seasoned aboriginal artists and performers.
The Society encourages grassroots with inclusive strategies that honour all Aboriginal voices and encourage all to participate with continued growth, presence, and expression within all media.
More information can be found on the Red Jam Slam website.
The Board Members of the Red Jam Society are:
Doug West, Board Member and President
Doug is a communications professional who has worked with First Nations communities for the past 23 years. Doug was a journalist for Kahtou the Aboriginal-provincial monthly newspaper, then editor of the Awa'k'wis Newspaper on Vancouver Island. After a one-year sojourn with the film industry in Vancouver, Doug moved onto community television production in the lower mainland and then worked as an independent video producer for BC First Nations. After pursuing an Arts Degree with a Concentration in Information Systems Doug now helps businesses and organizations as a Web Hoster and Developer for online solutions. Contact: doug AT redjamslam DOT com
Stephen Lytton, Founding Board Member
Stephen moved to the Downtown Eastside (in Vancouver) in 1992. At first, he found some aspects of life in the area frightening but, as time went on, and with the involvement of friends, he grew to care deeply for the community. He loves the character, heart and courage of the Downtown Eastside. He has learned much about the human spirit and its will to survive in spite of all the challenges it encounters.
Stephen enjoys poetry, creative writing and acting. Something he particularly loves about acting is the ability to share a message in a way that provokes thought and feelings without preaching. He believes artists must think about how their work is presented, keeping in mind that sensitive issues can negatively impact audience members after they leave. Stephen believes that the arts help shed light on the issues of our community, uplift the spirit, and play a key role in building bridges to other communities.
Stephen has acted in a number of community arts initiatives with Vancouver Moving Theatre – Bah Humbug, Downtown Community Eastside Community Play, the Shadows Project, Crime and Punishment, Minotaur Dreams. Stephen participates in the Carnegie Community Choice and Mothers and Grandfathers drum group. He sits on the boards for Carnegie Community Centre and urban ink, Aboriginal network on disabilities society, Roundtable Dialogue in Community and speaks at the city council regarding issues such as housing, homelessness, missing women, residential schools and addictions.
Dave Rufus, Board Member
Dave Rufus is Namgis and an artist and woodcarver of Pacific Northwest Coast art. With direct instruction from well-known master carvers such as Beau Dick and Joe Peters, Dave has been developing his technique and perfecting his craft for over 20 years. Dave has commissioned works far and wide, as well has designed, engineered, and raised the Memorial Pole at Oppenheimer Park in Vancouver.
Charlotte Laronde, Board Member
Charlotte is a business person in Vancouver who is interested in the Aboriginal arts community of BC. She has been generous in supporting past RJS events by services and donations in kind and promotes and assists whenever possible.
Elwin Xie, Board Member
Elwin is our technical wizard. He was the on-air technician for the Vancouver Slam Event in February, 2013. He is a tech operator for Bulland Awaaz and Media Mornings programs at Vancouver Coop Radio, and as well has been on the production team of numerous cultural events within the Downtown Eastside. Elwin is also involved with the Chinese Canadian Historical Society.
Lillian Howard, Board Member and Executive Director
Lillian is a member of the Mowachaht/Muchalaht First Nation and is of Nuu-chah-nulth and Tlingit ancestry. She is an advocate for Aboriginal, environmental and social justice. Lillian has worked with the Nuu-chah-nulth Tribal Council, Union of BC Indian Chiefs, Assembly of First Nations, various First Nations and the Vancouver School Board. She has been on the board of Environmental Aboriginal Guardianship through Law & Education, BC Environmental Network, Canadian Environmental Network, BC Spaces for Nature and the Institute for Indigenous Government. For the past 5 years Lillian has been an active participant at the annual Pacific Northwest Tribal Canoe Journeys with the Alaska One People Tlingit/Haida and Dzunugwandzis canoe families. Ms. Howard is a Co-chair of the Urban Aboriginal Peoples Advisory Committee. Vancouver City Council appointed and established this committee in May 2012.
Gunargie O'Sullivan, Resonating Reconciliation Outreach Coordinator
RJS Founding Member Gunargie O'Sulivan has been dedicated to community and campus radio since 1989 and attributes her knowledge to her guests and her community. The Resonating Reconciliation project was originally her idea and she helped develop the proposal. She will be working from Vancouver four days a week and email is the best way to reach her at cheryledwilliams AT gmail DOT com.
Gunargie is the founder of the shows "Late night with Savages" on CFRO-FM Vancouver Co-op Radio and "Nation to Nation" on CJSF-FM and currently produces "When Spirit Whispers" and "Sne'wayulh" at CFRO-FM.
She also founded the Red Jam Slam Society, which exists to initiate celebrations, events and festivals that feature Aboriginal artists and performers and encourage grassroots and inclusive strategies to honour all Aboriginal voices. The Red Jam Slam Society is also a partner organization in the Resonating Reconciliation project. Gunargie was also the Aboriginal Representative on the NCRA Board of Directors and head of the NCRA's Native Caucus.
Gunargie was on the Board of CFRO-FM and currently sits on the Boards of WMovers and Women's Wellness and Cultural Centre for Vancouver's Downtown Eastside. She is a member of the Tlowitsis tribe. Gunargie is both a direct and inter-generational survivor of Indian Residential Schools, and was fostered and then adopted by the age of seven. Her inspiration to carry out this important work has changed the landscape of Aboriginal radio.
Events
Vancouver
The Vancouver Slam Event was a successful intimate affair that took place on February 14, 2013. It had a full line-up of local talent in the central location of the InterUrban Art Gallery, at #1 East Hastings Street.
Edmonton
On May 12th, 2013, Red Jam Slam hosted the Edmonton Slam, coordinated by Carrie Lawrence and Donald Morin. This Slam had a great lineup of participants and performers from the Alberta community.
With the focus of the 'intergenerational survivor' in mind, the Edmonton Slam was an empowering event that displayed how the generations beyond the direct survivors deal with what has become known as multi-generational grief. Healing happens in many forms and these Slam Events themselves become a catalyst for healing for all generations of the Residential School experience.
Food was provided by Native Delights, and the panel discussion was moderated by Jodi Stonehouse, host of "Acimowin today!" on CJSR.
Winnipeg
The Winnipeg Slam Event, held June 11, 2013 was headlined with the Burnt Project 1 – a contemporary rock group, as well as First Nation Elders, artists and performers.
Outlined below, this event showcased residential school survivors, an aboriginal filmmaker/actor, an aboriginal comedian, an aboriginal traditional drum and dance group, and recently 2013 Juno Canadian Music Award nominated Burnt Project 1.
This event also featured The Roseau River Singers, who have been together for over twenty years.
These singers traveled extensively throughout the powwow circuit all across Turtle Island (North America). They also all partake in the Roseau River Anishinabe First Nation Powwow every year.
All singers are Anishnabe and originate from Roseau River First Nations, MB. The drum keeper is Bill Dathrill Atkinson.
Chad Anderson is a stand-up comedian originally from The Pas MB, who has been living in Winnipeg for the past 5 years. Chad has been performing ever since he moved to Winnipeg and is quickly making a name for himself in the entertainment world. He is a student at the National Screen Institutes New Voices Program and is a writer for Shaw TV's The Week Thus Far. Chad will entertain you with his tales from being a terrible drunk to getting sober and everything in between and after. Chad is a bright young man and is one to watch out for.
Kirk Ferland is a filmmaker whose training includes work with Manitoba Theatre for Young People and the Aboriginal Arts Training and Mentorship Program. Credits include The Singing Shards and The Forum piece From the North and Who Wants to be an Environmentalist, Running with the Hit Man, Blackbridge and was part of the cast of Out Mighty Mighty. Kirk is a proud father and is dedicated in making vital changes within the industry and communities that pertain more specifically to his Anishinabe heritage through community development for children and youth and with his writing, directing and acting. Kirk recently played "David" and "The Examining Doctor" in The Normal Heart, and the lead in the series Child First.
Florence is originally from Sandy Bay First Nations, MB married into Norway House First Nations, MB Anishnabe. Masters degree in Education from the University of Manitoba. First Nations Traditional Spiritual Elder, Resident elder at the University of Manitoba. Attended Residential schools: Sandy bay Residential school and Assiniiboia Residential high school. These Residential schools were located within Manitoba.
Philip Paynter, originally from Norway house First Nations, MB. He is Cree. He has a Bachelor of Education from University of Brandon; major in guidance and counselling. He is a First Nations Traditional Spiritual Elder and attended Residential schools: Cross Lake Indian Residential School/ Norway House and then onto Sandy Bay Residential school/ Assiniiboia Residential high school. These Residential schools were located within Manitoba.
Both Philip and Florence met at the Sandy Bay Residential school in 1963 . These residential school survivors would end up dancing partners, every Wednesday night, while attending Sandy bay residential school. Since then, they have been married for 46 years and counting. Mr. and Mrs. Paynter keep on dancing!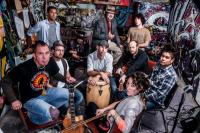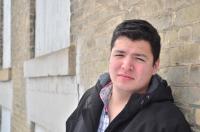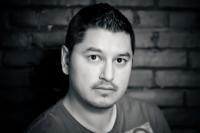 RJS Victoria
Live recording of the Red Jam Slam in Victoria, closing ceremony for the National Campus and Community Radio Conference on June 6th, 2014. Featuring Victoria Poet Laureate Janet Rogers, Standing Nation Drum Group, and Paint the Town Red. Recorded LIVE at the First People's House, UVic by CJMP-FM's Courtney Harrop.
Listen to the live recording here.
RJS Radio Fest Fundraiser
On September 6th, 2013, from 6pm-10pm the Radio Station Cafe at 101 Hastings St. Vancouver, BC, hosted the first ever Red Jam Slam Radio Fest Fundraiser.
It is being held in honour of Red Jam Slam former President Norma Rose Point. Rose was a Musqueam Elder who had made an outstanding contribution to the entire lower mainland community in all areas of public life, especially in education. Those at Red Jam Slam had the privilege of her deep caring guidance and love of the community and encouragement in the development of the arts. She will be remembered especially during this year's events with the ongoing flourishing of our arts community.
There was an exciting lineup of Indigenous professionals, featuring model Joleen Alica Mitton and carver Andy Wesley. With these artists and more they were raising funds for the first ever Red Jam Slam Radio Festival that took place from September 10th-13th at four different radio stations in the lower mainland.
The on-air festival took place at the following stations:
CJSF – cjsf.ca – 90.1 FM – Tuesday Sept. 10, 3pm-7pm
CIVL – civl.ca – 101.7 FM – Wednesday, Sept. 11, 3pm-7pm
CFRO – coopradio.org – 100.5 FM – Thursday, Sept. 12, 3pm-7pm
CiTR – citr.ca – 101.9 FM – Friday, Sept. 13, 3pm-7pm
Other artists include: Rob G of ShopWrong, Okalani of OKA's fashions, Tyler Jacobs of TAJ House of Talents, artist Alano Edzerza, Maurissa Nahanee from 7 Magazine, Wayne Lavallee, producer Patrice Mousseau, comedian Pasty Burns your Wagon, The Breezers, carver Glen Harper, poetry of Mureil Marjorie and Stephen Lytton. Refreshments were served, and there were door prizes, a 50/50 draw, and a raffle. Admission was by donation.
For more information about the fundraiser or the festival, please visit http://redjamslam.com/.
RJS Radio Festival
From September 10th to the 13th, the following stations partook in the first-ever Red Jam Slam Radio Festival. People participated online, via the airwaves, and in-person as the live studio audiences. This event showcased local Indigenous talent, and focused on sharing Indian Residential School survivors' experiences to help those listening understand and rise above the years of trauma and begin to build a relationship between Indigenous people and the rest of Canada.
Recordings of this event can be found at the participating station's websites:
CJSF – cjsf.ca – 90.1 FM
CIVL – civl.ca – 101.7 FM
CFRO – coopradio.org – 100.5 FM
CiTR – citr.ca – 101.9 FM